The first purpose-built Anglican parish church in London for 40 years formally opened on Tuesday on the site of a former factory and in the middle of a new regeneration scheme consisting of hundreds of homes.
St Francis at the Engine Room in Tottenham Hale cost more than £3m, funded by the diocese of London, the developers of Hale Village and donations. As well as a worship space, there is a community centre, 36-place nursery, workshop space and cafe.
It is the first of 100 new churches and worshipping spaces planned in London by 2020. The number of people attending Church of England churches in the capital has grown significantly over the past 25 years, although nationally congregations have declined.
A red ribbon at the entrance to the church was cut by the local Labour MP, David Lammy, and Rob Wickham, bishop of Edmonton. Children from Holy Trinity primary school played Amazing Grace on steel drums.
In the opening ceremony, Lammy said: "Someone at No 10 [Downing St] once said: 'We don't do God.' I've always been very clear that here in Tottenham we do do God." The opening of the church was a "very, very special moment" for a community that had faced difficult times, he added.
He told the Guardian: "There has been a lot of strife here in this community." The idea of a new church originated during the riots of 2011, which started after police shot dead a Tottenham man, Mark Duggan.
"Strong faith is a tradition in Tottenham, and for many people faith supports them through tough times. But this is not just about turning up on a Sunday – the church also fights for social justice, speaks truth to power and supports communities."
Andrew Williams, priest missioner at St Francis, said: "This is not a church with community facilities attached. This is a community centre first, and one of the things we will do is church. There's a subtle difference."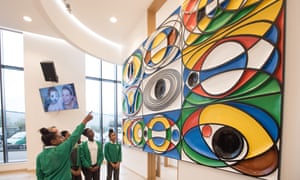 The congregation was diverse and mostly young, he added. The church had operated from temporary premises for the past four years while building up its numbers.
A striking triptych was specially commissioned from the Buddhist artist Graeme Mortimer Evelyn. It is now the largest contemporary altar piece in the UK.
Wickham, bishop of Edmonton, said: "As the nature of London changes, especially in areas of significant regeneration, we're asking ourselves what are the most appropriate places for us to be in order for people and congregations to flourish."
The London diocese had undertaken a "significant mapping exercise" across the city to establish gaps. "It's about how we reach out, sometimes in places where there might have been a degree of retreat, or in new housing developments, to build a sense of community at ground level."
Rising church attendances in London bucked the national trend, he acknowledged. "But it's not just Anglican churches that are growing, but black Pentecostal churches and other denominations. It's party down to immigration, and partly simply as London grows so do its congregations.
"And part of it is that we're much more proactive. Gone are the days when we expect people to come to us. Now we have churches meeting in pubs and cafes, running night shelters, food banks and debt advice services. As the state retreats, people of faith are stepping into its place."
St Francis is built on the site of the Lebus furniture factory, which switched production during the second world war to make parts for Mosquito bomber aircraft. The new Hale Village development consists of 1,200 homes for buying and renting.